About Our Sauces
 We have been making junk free sauces since 2010. We don't use thickeners, emulsifiers or man made preservatives. We use natural ingredients, just like the ones you'd use if you were making sauce in your own kitchen. 
Not only are our sauces junk free, they are vegan and gluten free, because we want everyone to enjoy our sauces together.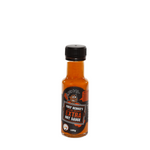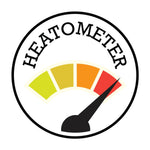 🌶️ 🌶️ 🌶️ 🌶️ UK GROWN PERFECTLY RIPE TRINIDAD SCORPION PEPPERS - Combined  with fruity fragrant Scotch Bonnets gives you...
Learn more
Out of this world hot sauce. This sauce is amazing. It is the best hot sauce I have ever tried. I bought some when I used to work next door to Bernie's old unit in Southampton. It adds a real kick and flavour. I love adding it to chilies, curries and bolognese. This is a truly wonderful sauce for any hot food lover.
Chef Bernie makes the most amazing, unique sauces and the customer service is absolutely fantastic. They went above and beyond for me and it really makes a huge difference.
Abi
Absolutely amazing funny lovely guy who makes the most incredible sauces! Saw Bernie at Fleet Food Festival & Chilli Cheese Fest. Love the banana ketchup. Sampled the lovely Coconut Curry Sauce & Garlic Sauce so bought both & trialed them tonight. So good! That Garlic Sauce gets hotter when you heat it up! Thank you Bernie! We had a fab dinner this evening!
Blaise
Best jerk and curry pastes ever! All natural and vegan ingredients.
Alcija T
Best hot pepper sauce I've ever had
Luke A
We meet Bernie and Caroline at Portsmouth Vegan Festival at the weekend and brought some of their "Banana Ketchup" which we had with our food last night and OMG what a taste sensation, my whole palate came alive, we definitely will be trying out some more of their fantastic range of sauces on a regular basis...... beautiful natural people making beautiful natural food ...... check them out
Pixie M
Best jerk sauce out there just drizzle a little on chicken! The flavour is unreal bring the food to life. Picked some up from good food show. Can't wait to use I summer when I've got the BBQs fired up
Jason R
Chef Bernie creates the best hot sauces I've ever tried. Going to put an order in soon to try the jerk sauce and garlic sauce!
Sam A
Chef Bernie always has a diverse range of homemade cooking and dipping sauces. I came across his products was at Plantbased Live 2018 His hot sauces are always the best if you can handle the heat, his hot pepper sauce and extra hot sauce are worth trying. I highly recommend his sauces for cooking & spicing up any savoury dish.
Rachael R
Jerk Paste
Marinading with Jerk Paste
Chef Bernie's Jerk Paste will marinade you up to 2 ½ kilos of meat or vegetables. Marinade in the fridge for 12 - 24 hours before cooking. No added sugar in this paste means it's ideal for BBQ's and grilling.
Curry Coconut Sauce
Cream Sauce
Add 1 heaped desert spoon off Chef Bernie's Curry Coconut sauce to a small pot of single cream (non dairy if you prefere) heat through gently without boiling  and poor over your supper - serves 4
Garlic Sauce
Stir Frying
As your finishing off your stir fry add a dessert spoon of Chef Bernie's Garlic Sauce to add heat and flavour - serves 2