Caribbean Coconut Curry Paste - Vegan - 100% Natural - Gluten & Dairy Free - No Added Sugar - 265g Jar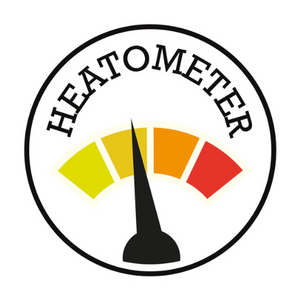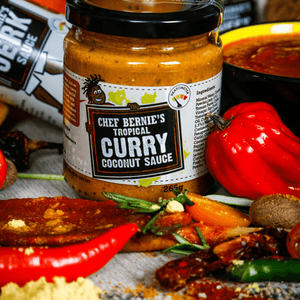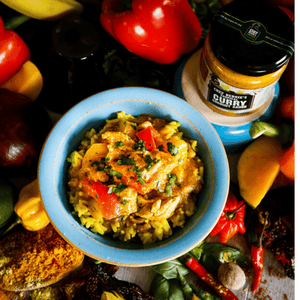 Product image 1

Product image 2

Product image 3

Product image 4

CARIBBEAN STYLE CURRY  -  my special 'Curry Mix'  blended  with tomato's , coconut, lemon and coriander creates a delicious paste for use  in casseroles, stir fries and as marinade for meat, prawns, fish, tofu and vegetables
🌶️ 100% NATURAL  HIGH QUALITY INGREDIENTS - suitable for vegans and vegetarians 
🌶️ NO JUNK SAUCE - free from artificial sweeteners, preservatives, colourants and thickeners
🌶️ VERSATILE AND DELICIOUS - This paste adds a Caribbean curry taste it to your stir fries, casseroles and pasta dishes. It's a  perfect alternative to traditional curry pastes.  Use as a dip mixed with mayonnaise, coconut yogurt or hummus . Each jar will marinade 2 and a half  kilos of meat or vegetables - great for BBQ cooking or add coconut milk to create a pour over cooking sauce
🇬🇧 BRITISH MADE - by hand in small batches.
Serving Ideas
If you love the milder flavours of coconut, Caribbean curry spices and tomatoes this one is for you
The tasty combination of tomatoes, curry spices, coriander and fresh lemon brings a mild heat with a tropical coconut curry flavour to your meat, fish and veggies
Use it in casseroles, stir fries, or in your slow cooker 
As a cooking sauce each jar serves 6 people 
Each jar will marinade  2,5 kilos of meat or vegetables. 
As there is no added sugar, its a perfect marinade to use on the BBQ, because it it won't burn
Add it to your hummus, soups, and dips 
Nutrition 
✔No added sugar
✔ No added thickeners
✔Vegan
✔Gluten free 
Ingredients for allergens, see ingredients in bold.
Mineral Water, Cider Vinegar, Organic Coconut, Sundried Tomatoes, Sunflower Oil, Organic Coconut Flour, Curry Powder (Mustard), Lemon Juice, Coriander Leaves, Garlic, Turmeric.
*Some of our ingredients come from factories that handle nut and seeds